Learn how to scale efficiently and why scaling will give you more freedom and the potential to sell at a huge profit 
Business owners must overcome many challenges as they strive to make their businesses a success. One of those challenges is scaling. Scaling is crucial to the longevity and profitability of a business, but it must be done methodically. Scaling without a plan will result in unhappy clients, apathetic employees, and loss of time and money. Fortunately, there are specific methods by which a business owner can learn to make sure his or her company scales at a predictable pace while increasing productivity and profits. 
During a month-long interview process, I interviewed twelve business owners, founders, coaches, and CEOs who have experienced the chaotic world of startups. Each entrepreneur has their own experience with learning from their mistakes, finding the avenues most effective in a startup, and deciding whether to scale and when. We will discuss potential issues of scaling too quickly, choosing the right people to hire and why delegating and implementing processes is crucial to the success of your business.
How to Scale
Scaling a business ensures that the company will grow without sacrificing quality or customer service. It allows for costs to decrease and productivity and sales to increase. Scaling helps leadership teams test and implement better ways to manage the organization so that there is sustainable growth to succeed. A successfully scaled business knows how to keep up with constant changes as the company grows and how to handle new situations. 
Scaling a business does not happen randomly. It is an intentional journey with an end goal. There may be new roads added to the path, but they will all lead back to what is most beneficial for the business. 
Scale on your terms
Giulia Iannucci, the founder of KnowThyBrand, advises, "Make sure you give scaling the definition that fits you and no one else." She started her business with a complex business structure. As she gained more experience and insight through her company, she soon realized she could run her business on a much leaner scale. She understood the challenges of bootstrapping and knew she couldn't run every aspect of her company, but still, she wanted to scale down. She decided to hire freelancers rather than full-time employees which allowed her to focus on the day-to-day operations on her own. Iannucci learned the valuable lesson that scaling should be done at a pace suited for you and the trajectory of the company. She became aware that not all companies need to have elaborate systems and huge teams of in-house staff to be successful. 
Have a Plan
To scale successfully a plan must be in place. When starting a company, it is essential to set it up as if it will eventually sell, even if you have zero intentions to do so. A startup that follows the blueprint of a company that has successfully scaled is more likely to run smoothly, be more profitable, and continue to provide stability to its founders and employees. 
Creating a plan to scale forces you to become aware of aspects of your company, like the people who work for you and when and where to spend money. According to Elise Keith, CEO of Lucid Meetings, it alleviates potential issues allowing your business to run more efficiently. Consider how operations will grow to handle more volume. Think about how marketing strategies will increase leads. 
Know when to invest
Business coach and marketing strategist Haley Lynn Gray explains that founders must audit their company to determine which areas need investing. Leadership and business coach Kim Boudreau Smith echoes this sentiment and warns leaders not to be afraid to invest but don't waste money. She educates her clients to constantly analyze what is and isn't working, focus on the effective parts and drop the others. "It's like a three-legged stool," she explains. "Focus on three main goals at a time to implement processes." Once a year, Smith looks at scaling her business as "decluttering." She believes scaling is growing profits, and it is impossible to increase profits when you spend time and money on something that isn't working or is taking up space in your funnel. 
Mission, Vision, and Leadership
Throughout the scaling process, your vision must remain top of mind. Your employees should understand the mission. Team leaders should possess the skills to know what works and what doesn't.
Mission vs. Vision
Frank Beckman, consultant and advisor to investors, acknowledges that mission and vision are not always the same. He further defines the two: "The mission is what you want to do, and the vision is why you want to do it." Many of the interviewees I spoke to seem to agree that vision is more significant than the mission. 
Furthermore, he says the vision often needs to be clarified. This is so that all employees, executive boards, and leadership teams have a clear understanding of what they are working to achieve. Mission statements can be rewritten as processes and systems are put into place and the market changes. The founder's vision, however, should remain the same from day one.  
People you hire don't often have the same vision as you, and passion doesn't always translate. Elise Keith of Lucid Meetings says you must hire people who share your vision, so it is essential to be able to articulate the vision. Executive coach Rakesh Rana agrees, stating that your executive team's vision should align with the CEO's, and if it doesn't, you must reevaluate both. Rana observes that over time the vision may alter at each stage of growth. However, it is vital to return to the original idea to ensure you are on the road to success. 
A Good Leader Must be Aware
A successful leader must have personal and social awareness and create an unbiased culture within the workplace.
Founder and CEO Rakesh Rana expresses his opinion that interpersonal communication is critical to successful leadership. A company has many emotions and personalities, and a truly effective leader learns how to communicate effectively with each employee based on awareness of backgrounds, culture, and preconceived perceptions. Groups of different people inevitably already have biases, whether conscious or unconscious. Gender, ethnicity, and education levels contribute to these biases. Leadership understands that these characteristics do not determine the role of the employee but rather their experience, maturity, and self-awareness that impact their position within the company and the overall success of the business. 
When a bias-free culture is created, it is the leader's responsibility to inspire the team to uphold this environment; there must be clear consequences if it is violated. This is not a day-to-day operation but an intentional internal campaign, and frequent communication about expectations from top leadership should filter down throughout the organization. 
Delegate, Delegate, Delegate!
Too often, founders want to control every aspect and don't know how to delegate. Malvika Aeron, founder and Tedx Speaker, finds that founders are typically skilled in one area. Some of the younger ones find it difficult to delegate the areas in which they are not as skilled. They are full of energy and passion and may have broad knowledge, but they don't necessarily have the leadership skills to run a team. 
Aeron advises young entrepreneurs to "find a co-founder or an executive team that compliments the skills you have." In other words, find a leadership team experienced in the areas you lack, which will add to the business and drive your vision home.
Gunjani Patel, life and health coach, learned from her past leaders as to what she liked and didn't like and, more importantly, what she was capable of and not. She saw the necessity to set up employees for success, so she adopted this leadership skill. After auditing her leadership skills and recognizing what works better or doesn't work, she makes an effort to reinvent herself as a leader every five years.
Seven Management Tips for Scaling
All of the experts interviewed have made and learned from their mistakes. Some could have avoided costly decisions, and others could have avoided a bumpy road they never intended to travel. Read on to learn how you can eliminate these common blunders.
Tip #1: Hire the Right People
Social media expert and business coach Haley Lynn Gray admits that people were the biggest challenge for her. People associated with your business should be considered a top priority. From hiring qualified employees, freelancers and contractors to managing large and small teams, each person who touches your business represents you and either adds value or does not. Gray says, "Hire slow, fire fast." She advises you to wait until you can afford to pay the top price, and it is clear that Malvika Aeron agrees. The international speaker remarks, "Take time to properly invest in employees from the beginning because the people you employ will make or break your business." 
Tony Whatley, a business coach and host of 365 Driven, warns, "Don't overvalue resumes." He understands the importance of hiring people who will positively represent your business. But, he is aware that many candidates lie on their resumes, and education level doesn't always matter. The employees you hire must see your vision and be willing to contribute to the success and culture of the company.
Tip #2: Processes 
Whatley also speaks on how imperative it is to build processes from the beginning so your business can sustain itself without your daily interaction. He reminisces that as early as his teenage job at McDonald's, he was aware of how processes dictate the success of a business. Throughout his experiences, he noted processes that worked and those that didn't and has since scaled three six-figure companies to prove it.  
Adrienne Dorison, CEO of Run Like Clockwork, has designed her consulting agency on the idea that entrepreneurs can create a business that runs itself. For a company to be able to "run like clockwork," systems and processes must be in place. Dorison is the first to admit that creating systems is not her strong suit, so she hires specifically to fill this void. "At first, I wanted to be an expert in everything and thought everyone automatically assumed I was an organized, efficient person, but the truth is I am the total opposite. I'm not organized at all, not even in my personal life. I hire people to organize my home, so I quickly became aware that I also needed to hire people who are adept at systems for my business."
Founder of AccerlatePlus, Malvika Aeron points out, "Sometimes the importance of systems and processes grows as the business grows and as it scales. The function of the systems is not to say that there's no flexibility or there's no room for innovation." She explains that systems help identify where to focus improvements through quality feedback on specific steps of the process. This ensures you are not wasting time and energy repeating a particular stage in a process that is not effective. As a result, she encourages regular quality feedback on the steps so that they develop over time and do not fall through the cracks. Receiving quality feedback also allows the founder to focus their energies on other aspects of the business for which they are better suited.
Tip #3: Stay in control of growth
Corporate coach and business founder Monica Jonsson says that sometimes entrepreneurs think they have to scale in order to franchise, become corporate, and take over the world. She reminds business owners to scale at their own pace and make sure that leadership teams can handle growth before setting sights on expansion. Don't make sacrifices on quality or the culture of the company just to expand. 
Business advisor Fred Colantonio observes that we usually only notice acceleration after it has happened, even if it was an intense growth. Sometimes a business goes through intense growth, and it is only then leaders realize that processes need to be tweaked. According to Colantonio, the challenges that companies face when scaling are often not the ones they expect. Inevitably with fast-paced growth, there will be technical difficulties. But as a company grows, roles will change to redistribute strengths and new responsibilities, and new hires will join to help with increased volume.  
Tip #4: Know who your clients are and speak to them directly
According to CEO and Podcast host Lynn Whitbeck, look for patterns and behaviors in existing clients and continuously ask why they are buying from you. There will inevitably be a disconnect between your assumption of why they are buying from you and the real reason they are. Awareness of client buying behaviors helps to restructure aspects of your business efficiently and maintain the "human" part of your business, no matter how many processes may be in place. 
Founder and personal development coach Muna Shakour learned the hard way. She measured vanity metrics over analytics. She soon saw that even though she had hundreds of likes and shares, she was not bringing in any new qualified leads. When she niched down, and it became clear her intended audience was mothers with children under the age of six, she received drastically fewer likes and shares on social media, but she generated more qualified leads who converted to clients. Her coaching business took off when she started speaking directly to the audience she was trying to sell to.
Shakour also shares that email marketing is her number one selling tool. Initially, she assumed the clients she wanted to appeal to – mothers – would never have time to open and read an email. But once she reevaluated and looked at the proper metrics of her qualified leads, she saw that email marketing made up 80 percent of her sales. "When someone gives you their email address, they are already taking that next step. They are raising their hands to say, 'I'm interested.'  
Tip #5: Take ownership and accountability
It's easy to take ownership when something works well, but frequently harder for people to take accountability when an issue arises. Good and effective leaders do both and recognize that it is part of their responsibility. Monica Jonsson, corporate coach and business founder, explains, "You should own the good and the bad and know that you are accountable for your employees." In other words, you are accountable for whom you hire, making you responsible for the successes and failures of those employees. 
Realizing that your employees are your responsibility, you need to make it a priority that they feel respected and protected. From successfully scaling her own startup to running client strategy at powerhouse IBM, Malvika Aeron shares what she once learned from a mentor: "Treat your employees as if they were your clients because they're the ones driving your business, and you want them to have a personal stake in your startup or in your mission that you're driving forward." Aeron says that this strategy will set your business apart from those stuck in a rut in the long run. 
Tip #6: Internal Communication
Founder and CEO of Lucid Meetings, Elise Keith, has built a career helping entrepreneurs communicate effectively and successfully with their employees through meaningful meetings. She teaches the importance of an organization's communication architecture which "determines the method and frequency by which information, attention, and intent flow between people, teams, and systems in the organization." She emphasizes that this process is non-negotiable because "it creates the thing you're after creating." In other words, how you communicate sets the tone for the culture you want to define at your company.
Keith explains that establishing your communication architecture sets the cadence for when and how you communicate internally. It flushes out the individuals who will not contribute to the culture you want to create and defines the difference between teams and coactive groups. Teams work together for a shared vision, whereas coactive groups exist as individuals. Communication architecture reduces the time spent meeting just to meet. As your business grows, the need to communicate internally will increase, but each forum must drive the business forward. If you have an intentional design for your meetings, time is well-spent, and productivity is maintained.
A popular meme clearly identifies the need for more businesses to define communication architecture.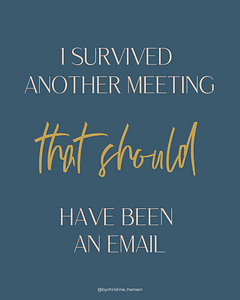 If companies understood the importance of strategic communication, perhaps this meme wouldn't speak to so many employees. Utilize apps such as Slack and Google Docs to share information and discuss ideas rather than wasting precious and productive time in a meeting.
Tip #7: Mindset Comes First
Founder of Inside Out with Muna, Muna Shakour learned that no matter how much she understood the need for specific strategies, she was destined for failure if she didn't have the proper mindset to execute those strategies. She recalls a time in her coaching career when she understood that to take her career to the next level, she had to raise her prices. She mentally was not prepared to do this and buckled under pressure by giving discounts. She had to coach herself to get in the right mindset that her expertise was justified in the higher prices, and now she teaches this to her clients.
Think Like a Venture Capitalist
Only three percent of startups sell, leaving 97 percent to fail or are worth nothing. This is extremely telling. What do the three percent have that the rest do not? 
Whether you intend to sell your company or not, you should set it up as if a venture capitalist was interested in buying it. Designing your business with the goal of selling helps to streamline processes, hire the right people, and set you up for a strategic exit plan.
Let's say that you plan to sell your company from the start. You scale quickly but inefficiently. Or you may not plan to sell, but you assume that is what you are supposed to do, so you allow your environment to dictate how you scale. 
Neither of these scenarios is optimal, setting you up for failure and getting disappointing offers if any are made. Author Monica Jonsson encourages founders to stay in control of their vision and people. This way, outside forces can't steer you into doing something that is not in line with your vision. The level and pace at which you scale should be thoughtful and intentional. 
Ask the Real Questions
Learn from successful companies that have processes that lead them to that success. Remember Tony Whatley, author of the number-one-selling book Side Hustle Millionaire, who worked for McDonald's at age fifteen? He preaches that processes and hiring the right people is crucial for a successful business, even if you're selling burgers. 
To ensure you hire the right people, Whatley advises that instead of relying on a piece of paper highlighting a potential candidate's experience or asking them contrite questions about their strengths and weaknesses, set up a common scenario to see how the candidate would handle the situation. 
For instance, using Whatley's experience at McDonald's, let's say you are interviewing for a counter position. Ask the applicant a situational question: an angry customer comes back to the counter complaining about their food and yelling at you. What do you do in that situation?
There are multiple ways the candidate could answer, revealing their work ethic, values, and how they will represent your company. 
One applicant may say, "I would get the manager." 
Another may answer, "I would try to diffuse the situation. Acknowledge the customer and their issues, and offer a free product to make them happy."
And another applicant may reply, "I would tell the customer to get over it."
This questioning will allow you to weed out the wrong people for your company more than studying a resume. A resume is constructed to catch an employer's attention; it is designed to highlight experiences, but it does not tell you how the person will contribute to your team or bring value to your vision.
Plan a Clean Exit
A necessary process that is easy to overlook is your exit strategy from the company. As the process of leaving the CEO role and handing it over can take weeks, it is imperative that a formal transition plan is in place in order to ensure a smooth transition. Clearly define your role as you transition responsibilities so that you are not stuck working for a boss when you are ready to move on with your money in the bank. 
Knowing how and when to scale helps business owners to be successful. Scaling allows leaders to see problems, create and develop solutions and test the new method to better manage teams and processes. Without scaling, a business has no real purpose or path. Scaling creates successful brands and companies that run like a well-oiled machine; employees are happy to work, customers are satisfied to do business, and business owners are profitable. 
You can subscribe to the Christine Means Business podcast here and leave us a review as well! We would love to hear from you.