When you first start your online business, you are your own HR department, finance department, marketing department, graphic design department, etc… so many different things! As your business grows and you get more clients, it becomes impossible to do it all by yourself. So, you decide to build your own team, but where do you start?
Recently, one of my guests on our Christine Means Business podcast was Max Fisch. Max is a successful real estate investor and founder of Liberty Business Solutions. Liberty Business Solutions is a service outsourcing and talent acquisition business, serving clients in various industries around the world. Max helps clients scale by shedding costs of traditional staff and allowing a more nimble operation
Building your team
If you decide to build your team and you don't have any previous experience with this sort of thing, it can be quite intimidating. So, before you even start this process, make sure you do your prep work. If you prepare yourself beforehand, you will increase the likelihood of attracting the right person for the job.  Know what you want and be very clear in your job description. You can even include some "tricks" that will allow you to focus only on those candidates who are the right fit. For example, you can ask them to apply only at a certain time (4pm to 6pm CST) or you can ask them to start their email with a pacific subject line, etc. This will allow you to quickly rule out those who did not pay enough attention and are probably not a good fit for your business.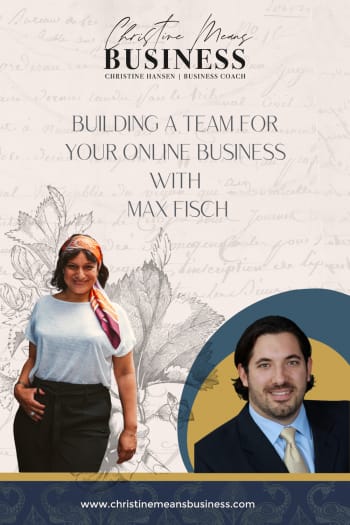 Hire slow, Fire quick
According to Max, one of the biggest issues that people face when building their team is not firing people fast enough. Hire slow, fire quick. What this means is as soon as you see that there is an issue and that person is not a good fit for your team, you need to make the decision to cut the ties. This way you are saving both time and energy that is better invested somewhere else.  It's always better to end a bad situation sooner than later. 
If you're going to build a strong organization, you need strong people. You need people who are truly concerned and want to project the core values of your company and treat it with the respect and detail that it deserves.
Take your time when interviewing
Another big thing that you might never even take into consideration (I know I haven't ) is presume fraud.  Unfortunately, this does happen. There are people out there who are sending out fraudulent resumes. If you are just starting out in your business, you probably don't have time or resources to check every single resume you receive. This is another reason to hire slowly and to make sure you get all the information you need before you make your decision. The more time you spend interviewing and making sure you got the right person, the higher the likelihood of not only a quality person but success and longevity. 
At Liberty Business Solutions, they offer two different lines of business:
A fully managed solution, where they take care of the whole onboarding process for you

A more traditional "headhunter" recruiting model, where they will find up to five candidates for you and consult you on the interview process.

With Liberty Business Solutions, you also get a post-engagement period, where they offer some guarantees and stick around to keep an eye on things and make sure that the integration is as seamless as possible. Visit Liberty Business Solutions to get in contact with Max and to find out more about their services.
You can subscribe to the Christine Means Business podcast here and leave us a review as well! We would love to hear from you.