I'm so happy to introduce you to another one of my amazing friends and acquaintances that I met through the online world. Her name is Amber McCue. Amber went from a small-town girl and a single mom to living anywhere and running two companies. She is the person you want in your corner to help you build your business and get results. And I can totally vouch for that.
Business planning with Amber McCue
A lot of my clients are very busy; they juggle family, they often juggle a second job or they're just super overwhelmed because there's so much to do when you're building a business. And Amber has been doing it all; she has her kids, she's been traveling a lot, so she had to pivot all the time. There are some seasons where the business was like a release and an outlet for her. Then there are other seasons where life just gets crazy. There was a time where they moved 13 times in one year and that year Amber decided to live life right on time because everything is always right on time.
Everything's right on time
Embracing that idea that everything's right on time, has really helped her navigate everything. But it also took some adjusting. Because as a planner, she thinks in the deadlines, she believes in priorities, but she is running her businesses to have a little bit of freedom. And for her, it took a little bit of time to ease into that flexibility.
The contrast is that when we're in big business, or we're really pushing against those deadlines in any business, they still move, we are just fighting against them. And it's so unnecessary, it is what it is, so let's go, let's deal with it.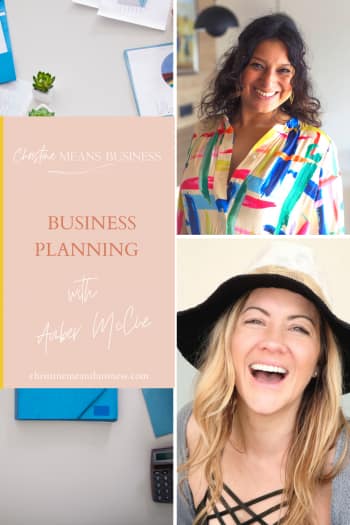 Planathon
Amber is known for the PLANATHON, which has been running successfully for multiple years. It's an amazing community with a beautiful planning process. But with everything that's been going on in 2020, Amber has pivoted. She realized in March that things are changing rapidly and that she had to make changes in both of her businesses. In her photography business, the shootings had to stop completely. And in her consulting business, they shifted from a 90-day planning structure to being able to pivot and move faster and adjust to the external circumstances that we're all going to be adapting and adjusting to, to the foreseeable future, to 6-week planning cycles. And some of her clients are operating in 4-week planning cycles. So, this is taking a model, taking an idea, and a framework for planning and adapting it, and adjusting it to your personal productivity needs.
The beauty of it is that in six weeks, you can get so much done. And as things are changing and things are adjusting, you've got time to adapt. And what they're doing at the end of every 6-week plan is taking two weeks to rest and reset. Amber refers to that 2-week window as a Million-dollar parking lot.
"When we're in our six-week planning cycles, we can't add any extra to-dos, because we're intense and we are moving fast in execution. Anything that comes up, that's like a wish list item or something that we really need to do but we can't do it today, we put it in the Million-dollar parking lot. And then when we reach that rest and cool down window, we can come back to it and actually talk about, have deeper conversations about it."
So, the Planathon is where entrepreneurs, business owners, modern CEOs get together to get their plan on. They come together for a week to think about getting strategic:
what is the strategic plan?
what are we working towards?
together they build a plan 
together they think about the framework 
together they break it down 
together they give some new strategies for thinking about planning.
But there are also speakers on the virtual stage to introduce new ideas that you may want to think about integrating onto that board game, your strategic roadmap in the months ahead. So it's a really fun experience because so many people are coming together. It's high energy and high engagement and you'll definitely get some momentum.
Planathon is not an all year thing, they come together at the end of each year. You can join at any time. They'll let you know when the pre-party gets started because there is always a little pre-party before the actual Planathon begins! I really do encourage everyone to check out the Planathon.
As business owners, we think that getting our website done is more important, that getting our branding done is more important, that having a webinar script is more important. But believe me, it's not. If you know where you're going, if you have your strategy in place, all the rest falls into place anyway. You know more clearly what you're going to say, you know what you're going to sell, you know what to create, because it makes sense. All of it plays together. But the roadmap needs to be there. There's just no way around it.
Are you ready to grow your business? Take the CEO Mindset Quiz to discover what stage you're at and what to focus on right now to see an instant boost in your business.
If it is not your thing, check out Amber's photography business Three Boudoir.
Don't forget to check out some other great interviews and articles on our blog.