I love my CEO clients. And by CEO I don't mean the big cats of your typical fortune 500 companies.
I mean the bosses who have their business and are rocking it with as much passion, grit, and love as they can.
A CEO to me is someone who has a vision, a plan (sort of, but open to pivot), who has a purpose and who also understands that their energy isn't endless.
They serve in the domains of health, art, small businesses to cater to joy and wellbeing.
They often hit a wall once they gain hard-earned traction because they are, well one person in their business. And that is where I often meet them.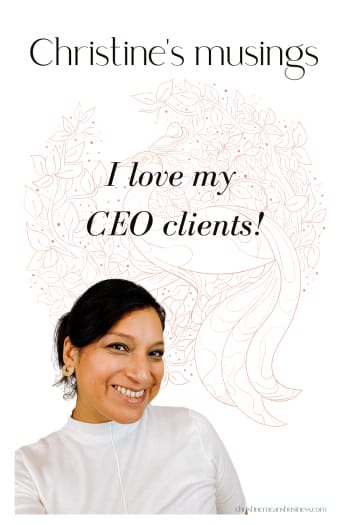 To enjoy outsourcing. To avoid overwhelm and burnout. To understand how their character and personality works best for their team. How to handle a team. And how to grow further without working more or stressing more.
Those are my dream CEOs. And I love accompanying them.
During the 3 Day Digital Escapade we will put our CEO boots on and grow. We will literally grow our vision and business during those 3 days.
We will do our inner work to own our confidence needed for growth, we will plan and structure. We will compare notes and learn from each other and we will thrive.
That way we can then re-assuredly know that our business is in good hands and ready to function even when we are on holiday (like me in Venice this time last year *bliss*), have crazy PMS hormones raging, sick (or generally) kids zooming about at home, or just need a break.
It is glorious.
Check out the event page and if this calls to you to put it off: Book your ticket. Be crazy and hit that "buy now" button.
It will be epic.