I'm really excited to introduce you to Prerna Malik from the Content Bistro today. We will talk about her amazing business savviness and how she created a business based around copy. 
The importance of copy
It took me a while to understand how important copy actually was and what it was. I am convinced that it's one of the most important pieces in business and it's one of the pieces that I spend a lot of money on, on a regular basis. 
Prerna started creating content with her husband 11 years ago and very soon she had her clients asking her to write sales pages and emails for them. One thing led to another and today she is a certified copy hacker and conversion copywriter. (Conversion basically means that you have a certain number of people being exposed to your content and the percentage that signs up with you represents a conversion rate.) 
What is copy?
Copy is not just words; copy is so much more than the words you would put on a page. Copy is understanding, copy is reflecting, copy is empathizing, copy is encouraging, copy is motivating and inspiring people and giving them the tools, they need to make decisions that they would feel good and confident about. Copy is anything that moves your readers, to make a choice, to take a decision.
It can be the copy on your homepage that encourages your readers to go ahead, punch in their details and sign up for your freebie

It could be the copy  as small as a Facebook ad that they see scrolling through their feed, and it makes them go

"Hmm, this looks like it's for me."  
Writing is probably the easy part. It's the process that comes before that, that you need to spend the most amount of time on. If you're not taking the time to really understand the audience that you're looking to serve, that's a sign that whatever you're putting out there, it probably isn't copy.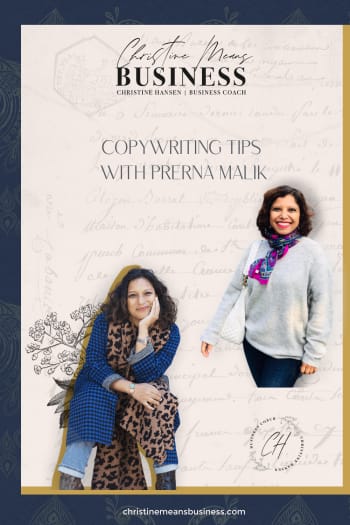 Proprietary Framework
Every conversion copywriter has a proprietary framework they lean on to write copy that helps move people through different stages, so they can make the decision that they feel confident about. In Prerna's case she has a framework called a connection-conversion framework, which starts
After that, she moves to conversion, but she doesn't just stop at conversion. She brings it back to connection because it's not just about the sale. It is about building a relationship with your customers; it's about building a relationship with your audience.  
And it's not just about the big things. Yes, you need a good headline. Yes, you need a good lead copy. Yes, your offer needs to be clear. You need all of these pieces, but sometimes it's also the small things:
Are your bonuses on point and are your bonuses really helping your audience move to the next step or solve another, smaller problem that would be holding them back from moving forward or removing an objection that they may have? 

Look at your Frequently Asked Questions, someone's scrolled right till the end of the page, they probably are interested, they still got questions.  What is it that they need to know from you that could help them click that big Buy Now button?
So, when you are looking at a copy don't just focus on the big things, pay attention to the smaller elements as well. 
To me, copy is one of the most important investments that you can make. Having someone helping you with that isn't just to have a website that has great texts, but it's also to give clarity to you. Very often you have a process that will make it so much easier for you. And everything you're learning is going to help you to create all the other content in your business as well. 
If you want to get in touch with Prerna, visit their website Content Bistro. She specializes in launch copywriting, both time-sensitive launches, and evergreen launches. That includes sales pages, email sequences, strategizing with you, etc. So, whatever you need to pull off like a successful launch, without feeling like you're walking through quicksand.  
On the consulting side of things, Prerna and Mayank also work with service providers who want to scale their business using the sustainable scale approach that she and her husband use. In September they launched Ready to Sell, their program for course creators and coaches who want to sell on evergreen mode and would like the frameworks or "recipes" to write emails,  sales copy, content pieces, including blog articles, and social media.  
I do hope this has helped with the idea of what copy is and why I deem it as one of the most important features of your business. So, don't hold back and start investing in it. Your business will thank you!