If you aren't letting an evergreen funnel work for you, what are you even doing?
An evergreen funnel is an automated sales vehicle that works 24/7 to bring new clients to your business and sells your online courses. Think of an evergreen funnel as your top seller who works 'round the clock while you focus on other aspects of your business or take that much-needed vacation. The evergreen funnel is a "set it and forget it" tool that, if you aren't utilizing, clients and profits are passing you by.
At the end of this post, you will know when you are ready to create your own evergreen funnel. We will look at:
The benefits of an evergreen funnel.
Signs you are ready for an evergreen funnel.
How to build an evergreen funnel in eight steps.
Typical evergreen funnel benchmarks for a coaching business.
Seven tools I use for my own successful evergreen funnel.
But first, let's look at exactly what an evergreen funnel is, who needs one and why they work.
What is an evergreen funnel?
An evergreen funnel is an automated email sequence that works to sell your online coaching. Like the leaves of an evergreen, so is the lifespan of an evergreen funnel. Year-round, the evergreen funnel details your product or service, shares discounts, encapsulates your expertise, and starts a relationship with your target audience that builds trust and hypes up your authority. An evergreen funnel is a sequence of five or six emails that will work for the duration of your business, with a few tweaks here and there as your business evolves, so it is a consistent sales tool that once you set it up, it will work while you sleep.
It starts with a freebie. You offer something to a visitor of your landing page because what's better than free downloadable resources? It is a practice of reciprocity that should be incorporated into your marketing and sales tactics, with the intention of thanking your client before they invest in your service.
The evergreen funnel runs automatically attracting potential clients at any stage of their journey. Rather than doing a huge launch of your online coaching program and hoping clients are looking for your services at that certain time, the evergreen funnel works day and night targeting people who are looking for your services at any given time. When a person signs up for your evergreen funnel, they are actively looking for a course like the one you offer and are more likely to purchase your coaching package before even completing the email sequence.
Who needs an evergreen funnel?
Simple answer is everyone! If you sell a product or service, you should absolutely have an evergreen funnel working for you. With that being said, not everyone is ready to launch an evergreen funnel. A ton of time and effort goes into the front end setting up an evergreen funnel, and if you don't have predictive data to measure how the evergreen funnel will benefit you, you will not have a successful evergreen funnel.
I advise that you wait until you have a proven sales method or are making at least 10k a month before you create an evergreen funnel. We will discuss in further detail signs that you are ready for an evergreen funnel later.
Benefits of an evergreen sales funnel
Saves time!
Obviously writing out an email takes time (much less five of them), time you could spen coaching your clients or creating a new course. An evergreen funnel is automated, so once you write the copy and set up the email to send when a prospect signs up for said freebie, there is little more for you to do, besides maintenance and tracking. An evergreen funnel saves precious minutes that you can use towards bettering your business rather than drumming up prospects.
Grows your business strategically
Evergreen funnels help grow your business strategically. An evergreen funnel acts as a constant salesperson on your team so you are not always trying to pitch your online courses. The evergreen funnel ensures that you make sales and measures predictable growth. Evergreen funnels not only help with sales, but they are also part of your marketing campaign, passively working to invite people to join your Facebook group, sign up for newsletters or take surveys. All these avenues help grow your business and gain more exposure, all while you are busy taking care of other business.
Makes you money
Evergreen funnels can be extremely profitable- if you know what you are doing. Before creating an evergreen funnel, you need to understand the strategy to convert readers into subscribers. Compelling copy, testimonials, and relating to your audience will help boost sales and convert traffic. You can measure how well your emails are doing by collecting evidence from the insights of the platforms you use. You can see how well people respond to your emails and do a little editing and test different versions if you find that you aren't getting the desired response.
Signs you are ready for an evergreen funnel
Yes, an evergreen funnel is an important marketing tool that works behind the scenes to convert subscribers to clients and maximize sales while you focus on the everyday of your business.
But not every online coach or solopreneur should set up an evergreen funnel willy nilly.
Although it is fairly simple to set up, there is a massive amount of work and insight that goes into an evergreen funnel. Once it is complete, there will be a few tweaks here and there, but as the name suggests, the evergreen funnel will then continue to work for you year-round.
Some people suggest that your business should be selling at least $10,000 monthly to begin your evergreen funnel. This ensures that you not only already have traffic coming to your website or landing page, but you also have enough traffic to measure how well your evergreen funnel is performing. If you have no previous sales starting an evergreen funnel isn't exactly the first step you should take into building those initial sales.
So how do you know you are ready to create an evergreen funnel?
Have a validated offer
First off, you must provide a service that is purchasable at any point in time that offers the same value no matter where the customer enters the sales cycle. This means that your course can be accessed by a client no matter when they decide to begin their journey, and they will receive the same features and benefits as if you were to launch your course live.
Go live first
Before you go evergreen launch your course live a couple of times. This helps address any real-time questions your clients may have during the course or clear up any confusion during your presentation. Launching live serves as a rehearsal for the recorded course that you sell through your evergreen funnel, perfecting your spiel. Launching live will give you an idea of resources you can offer and may help you identify irresistible freebies by concluding how current clients respond to resources and webinars. 
After each of your live launches you should immediately tweak what needs tweaking so that when you are ready to set that evergreen funnel to auto, you begin with your best foot forward.   
Test your offer
Go beyond your existing email list and measure how potential clients react to your offer. After all, if the freebie isn't inviting enough, no one will sign up to begin receiving your evergreen funnel. Gauge how much lead flow comes to your site or landing page and once you have a consistent flow, you can turn the offer into an evergreen funnel.
To test your offer, partner with another coach or professional in a related field. Use their audience to perfect your pitch and measure how well your offer is received. 
You can also observe how current clients react to different resources you offer or take note of resources current clients ask for. If your current list of clients find value in something, it's a fairly good gauge that potential clients will be intrigued enough to click for the free download.
Identify and optimize
As you assess your offer identify any bottlenecks that slow up the sales process and make the necessary changes immediately. Perhaps the subject lines of your emails, or the placement of your "sign up" button need to be reconsidered. Testing different versions of these is a proven way to measure which one attracts your desired reaction.  
Compelling ad copy and an attractive design helps convert buyers on your sales page. First impressions mean a lot when trying to sell something online and you only have your readers' attention for a brief period of time. Optimizing your sales page is essential to directing visitors to your page. SEO helps navigate visitors to your courses and has a higher chance of converting visitors into clients. Once they are there, your whole design, from aesthetic to word choice is what sells your online coaching packages.
Operational Support
Can you take on more clients? Can your online business sustain what it takes to offer year-round online coaching packages? If you have multiple packages, you will need a system that can take on multiple classes concurrently. You also need availability if you offer any one-on-one services for someone who signs up for your service.
You must have the essential tools (which we will look at in a moment) to help support creating your evergreen funnel from start to finish. Besides a captivating freebie, you also need a way to create a compelling and working landing page and an automated email provider.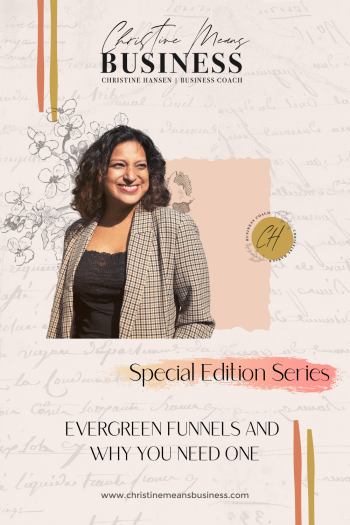 How to build your evergreen funnel in 8 steps
Strategy & budget
Before you begin, write out a strategy and budget for you evergreen funnel. Figure out how much you want to spend on paid ads and software to run your automated emails. Will you outsource the creation of your landing and sales pages to a graphic designer? Will you hire a copywriter to develop badass copy for your evergreen funnel? Of course, you can create the whole evergreen funnel on your own, but remember to budget in the time it will take you to learn how to create high converting resources.
I suggest outsourcing these types of projects: you may want to hire an SEO expert to help convert visitors to clients; a copywriter to find the perfect words that sell; and a graphic designer to create appealing pages.
Super valuable lead magnet
What freebie will you offer? What super valuable information will you gift visitors that is too awesome to pass up? The visitor will find your lead magnet through a link from a blog post or a paid ad. Promise a free webinar or free downloadable resources such as templates or lists that visitors can refer to. Visitors will sign up with their email to receive your fabulous freebie, thus beginning your evergreen funnel.
Landing page and thank you page
This is where an exceptional copywriter, SEO expert, and graphic designer come in handy. You now must develop your landing page for your super valuable lead magnet. A visitor arrives at your landing page from a blog post or a paid ad. A landing page is where the visitor will leave his or her email to accept the freebie. Once they click the link for the freebie, a thank you page should pop up thanking them for signing up and to enjoy the freebie. You are on your way to converting your visitor into a client.
Tripwire and upsell
Decide if you will use a tripwire or upsell your offer. A tripwire is a limited-time offer. Think of all the evergreen emails you've received. Have you ever noticed that there is a time limit on the offer to purchase the product or service at a certain price? This is a tripwire. Will you offer your online coaching package at a limited-time discount through your evergreen funnel? Or will you upsell and offer bonus resources at a discounted price if they sign up through this evergreen funnel?
The key is to create a sense of urgency. Typically, when someone becomes a part of your evergreen funnel they are already looking to purchase. If you create the urgency that the deal of a lifetime is about to run up, chances are the reader will convert to a buyer.  
Sales page and thank you page
The sales page is what will sell your core offer. This page is part of your evergreen funnel sequence that is sent towards the end. The sales page should be creative and appealing and the copy and design should be consistent with your landing page. This thank you page should remind your new client how much they will learn or gain from your online course and give next steps, like how to access the course.
Set up email sequence
Now you can draft the actual email sequences. The sequence will automatically be sent to the visitor who signed up for the freebie through your landing page. They will then receive automated emails every other day or so leading up to the sales pitch. When they read the emails, they get to know you better, understand your authority on the subject, see the value your course offers and decide to purchase your online course, or not.
Your evergreen should consist of the following:
Welcome email– this delivers the freebie and welcomes them to your little part of the internet coaching world. Introduce the tripwire with a little reminder in the P.S. section. S.- ALWAYS use a P.S. Readers rarely read your whole email, but they typically jump to the P.S. You can use the P.S. section to create sense of urgency and incorporate your CTA.
Sell the tripwire- Create a sense of urgency to purchase your coaching package at a discounted price for a limited time offer.
Core offer- Wait a day after the tripwire offer. Now you can begin to sell your core offer. You can send an email in the morning and one in the evening for a couple of days. In these emails introduce yourself, tell your story, provide testimonials from past clients, emphasize the value of your coaching package at the price you are offering. Use the P.S. section to ask if your future client has any questions.
Final reminder- You want to reiterate the value of your offer. Use more testimonials that relate to your future client. Ask questions that the only possible answer is "yes" (for instance do you like to save money?). You can offer your upsell here: if you purchase today, you will receive a bonus course that is usually offered as a separate cost.
Promotion plan
Now you need to figure out how to market your lead magnet. Will you be paying for ads on social media platforms? Promote it on your optimized blog, or on your podcast or YouTube channel? Consider partnerships. I have a blog post on how to collab with podcasters here.  
Track the numbers
You must track numbers to see if your free offer is gaining traction. Tracking click rates from the landing page will let you know how many people sign up for your evergreen funnel. You can also track open emails to see how many people are actually opening the sequence in your evergreen funnel. You can track how many people purchase your online course from your sales page in your evergreen funnel. This helps you plan for your expected profit that month and what you may need to tweak a bit to get more open and click rates.
It is important to measure this data weekly or monthly so that you can keep record of traffic flow to keep up with future traffic flow strategy. (To keep track of the numbers, I recommend Airtable.) Three key numbers you should measure are:
Cost per click (CPC)
Cost per registrant
Cost per desired action
We will discuss these more in the next section.
Evergreen funnel benchmarks
When creating an evergreen funnel, keep a few things in mind.
First, make sure your freebie and information is timely and up to date. Second, occasionally, measure your keywords and keep up with the algorithm so that traffic flow stays consistent.
The key numbers we discussed before serve as the benchmarks of how well your evergreen funnel is doing.
To calculate your CPC, look at your ads. Divide the amount spent by the number of clicks to get your CPC. To improve your CPC, you may need better ad copy or design. You can test out multiple ads to see which one lowers your CPC.
To calculate cost per registrant, divide what you have spent on a campaign for a period of time and the number of webinar registrations in that same period of time. To improve this number, you may need to tweak your landing page. Adding testimonials or simply shortening your landing page could improve this number significantly. Again, you can test variations of landing pages to see which performs better.
To calculate your cost per desired action, divide what you have spent on ads and the number of desired reactions you have had. To improve this number, you may need to assess your webinar to identify why people may be dropping out. You may need to rerecord or fix any glitches that may come up during your webinar.
For proven desired ranges to measure these numbers, check out the benchmarks here.
Seven tools I use for my own successful evergreen funnel
It is ideal to outsource your evergreen funnel. Unless you know how to design and pick the perfect words to sell your online coaching package, you may spend too much time trying to figure it out. Of course, you could use this time perfecting your online coaching package and tweaking your evergreen funnel. But I totally understand if you are not in the place to outsource, so I have a few resources that I trust and would use.
And to be totally transparent, I do make an affiliate commission when I share some of these tools. But I wouldn't be telling you about them if I didn't whole-heartedly think they are amazing. 
Landing pages and sales pages
I love the template builder from Basil & Bark from my good friend Alysha. The templates are stunning, and you can customize them with your brand design.
Automated emails-ActiveCampaign, ConvertKit, and Drip are great tools that use if/then functions.
Stunning visuals- Canva is easy enough to use if you need to use visuals. You can use the free version or a get a monthly subscription for access to more visuals.
Webinars– EverWebinar, Webinar Ninja, Easy Webinar, OfferingTree, Dubb
Countdown timer- DeadlineTimer
Collecting payment- ThriveCart, OfferingTree
Delivering the program- Teachable, Thinkific, Flodesk
There's no denying that evergreen funnels will help your bottom line, drive traffic and increase profit. Though they are not for beginners, it won't be long until you are ready to launch your evergreen funnel so everything you do now helps to build and prepare your business for your evergreen funnel.
For more information and to get started perfecting your evergreen funnel so you can begin to drive more traffic and sales within the next few months, check out my book.
Let the evergreen funnel work for you! 
If you want to learn more about working with me then I offer a complimentary session to get to know each other which is bookable on my contact page.