All of us entrepreneurs start somewhere. Most of the time, I work with online coaches and online businesses, but recently I had an opportunity to have an amazing conversation with an "offline" entrepreneur, Ciara Stockeland.
Ciara Stockeland has owned and operated businesses since her early teens. Her vast experience in both retail and wholesale industry led her to launch the btqBOX, a subscription box for boutique retailers. which she sold and built within 18 months. Most recently, she has launched a Boutique Workshop which is a coaching program for retailers. Through the coaching program, she strives to motivate boutique owners to dream big and build simply. She currently resides in Grand Forks with her husband, Jim, their two amazing children Harrison and Isabella, and her Great Pyrenees Bentley.
After a decade of being in retail, Ciara was not happy with the direction her business was going in.  When she started to reflect on some of the issues that were present in the retail space, she got an idea for a subscription box for boutique owners. From her own experience, she knew that they were struggling with getting their products in front of retailers, so she decided to make it easier for them – to bring these beautiful products to the doorstep of retailers, so they didn't even have to leave their brick-and-mortars. This was the stepping stone into what she is doing now because it was through the subscription box that she started to meet retailers who were asking all sorts of questions when it came to managing their boutiques, so Ciara started her coaching business.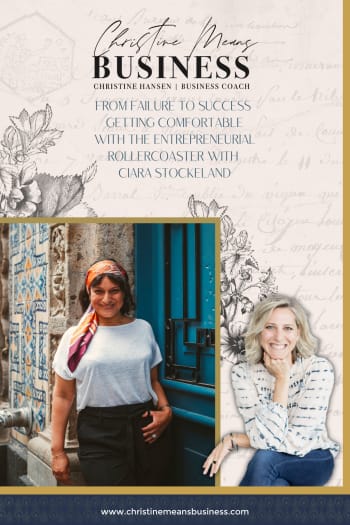 Entrepreneurship is a roller coaster
Ciara shares that for her this entrepreneurial journey has been a roller coaster of success and failure. But she also believes that as we get more seasoned, and as we realize that entrepreneurship is a roller coaster and that there will be ups and that there will be downs, we can flatten those a little bit if we can learn not to get so high on the winds of success and so low on failure. Failure just means that we are at the bottom of the roller coaster from where we can learn, observe and climb the hill again. As we get more comfortable with those things, and we understand who we really are and what our superpower really is as an entrepreneur, we learn to say "yes" to the right things and "no" to the wrong things. This way you will build something that you truly enjoy, but also thrive in.
Lack of understanding your numbers
According to Ciara, in terms of entrepreneurship, boutique retailers struggle the most with the lack of understanding of the numbers. And when you don't understand your numbers, you try to do all the things. But learning the simple numbers behind your business gives you the power to make the right decisions. So, simplify down. Look at your data and learn how to use it. It's very overwhelming, it's not very interesting but it is life-changing. 
Ciara's advice is to choose one number and fall in love with it. Because what do we do when we fall in love with something? We learn everything about it, we study it, we know it, we memorize it, we can talk about it all day long. So, choose one number; maybe that's your sales, maybe that's your average ticket, maybe that's your margin, maybe that's your net profit. Choose one number and learn to fall in love with it and all of the other numbers will start to make sense. And once you know your data, it will help you focus on things that matter.
Be consistent and grow
Many of us started our business not necessarily because we wanted a business but because we wanted to share our passion and serve others. However, we are still running a business and it's important to treat it as such. But sometimes, by the time you set everything up you are exhausted. Ciara believes that the best way to overcome this is by taking bite-sized actionable steps. 
Choose one thing and keep breaking it down.

Do it as granular as you can – break your monthly goal into weeks, into days, into hours. Instead of looking at a huge overwhelming picture of, focus on today. And when you do that, not only does it take away the overwhelm, it also helps you get really good at doing the same thing over and over. This is where your consistency turns to growth. 

Hire other people to help your business grow.

She encourages her clients to look at the hours that that person is going to free up on their schedule, and how do they convert those hours to revenue generating-hours, because that covers the cost of the person that they're bringing on and frees up your time, so you can do what you do best.  
Visit The Boutique Workshop for more info or DM Ciara on Instagram. You can also check out The Boutique Workshop Podcast for more actionable and amazing advice from Ciara. 
Finally, to all of our readers and listeners, Ciara is generously offering two of her Boutique Workshops totally free. Check out the Inventory Genius Masterclass and the Profit First for Retail Masterclass. 
You can subscribe to the Christine Means Business podcast here and leave us a review as well! We would love to hear from you.