In the past decade, our society has become very aware of valuations and how and why they are important. Now, you might think that the valuation and worth are terms reserved for fancy startups and big companies, but you'd be wrong. A business is a business. It's a living, breathing entity with money, people and problems. Big or small, it doesn't matter. 
How do you know if your business is worth something?
Recently, I asked this question to one of my amazing guests Bharat Kanodia. Bharat has been in business valuation since 2000 and has signed off on over 4'000 valuation opinions in real estate, industrial, personal property, and financial assets, worth over 2.6 trillion. This includes some unique assets such as the Golden Gate Bridge, Uber, Airbnb, NYC subway system, Hartsfield Atlanta Airport, and Las Vegas casinos. Bharat is also the founder of Veristrat, a company that helps startup founders in the business by telling them what tech companies are worth.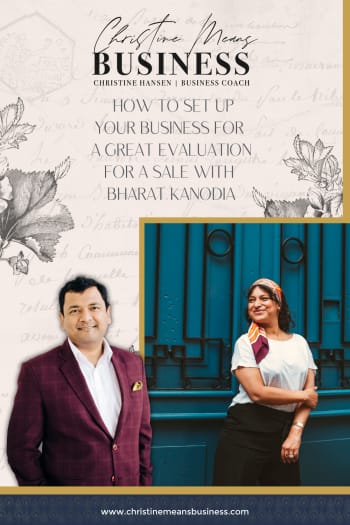 3 Ways to assessing the Value of your Business
 According to Bharat, when assessing the value of your business, there are three ways to do it:
Income approach

– determining the value based on the cash flow of the asset (business) in the next 5, 10, 15 years

Market approach

– determining the value of an asset (business) based on the selling price of similar assets

Cost approach

– determining value is equal to the cost of rebuilding or recreating that asset (business) from scratch 
If you are planning to sell your business at some point, you need to keep in mind two things that if you implement over the next six months can literally double your business value:
The person buying your business wants to be able to sit back, do nothing and just enjoy the cash flow after purchasing it.

How close can you get to that fantasy? One of the ways to do that is to set up a recurring revenue business model. This will triple your valuation even if it means that you are losing some money on the front end of the revenue because your clients are committed.

Set up systems and processes so that once you have clients who are committed, you have everything ready to go.

Make it easy for your customers. Invest into a good client-relationship management platform that can do it all for you. 
If you want to get more amazing advice, visit Bharat's YouTube channel, and if you are looking to connect, check out his Instagram, Twitter, and LinkedIn. 
You can subscribe to the Christine Means Business podcast here and leave us a review as well! We would love to hear from you.