If you've been following me for a little bit, you know that I'm notoriously lazy and that I'm amazing when it comes to outsourcing things that I don't like doing. Copywriting is my worst nightmare, but thankfully this is where Gio Marcus truly shines. If you want to check some of her examples, sign up for the Ultimate Checklist or for the free class that I have because the emails that you're going to get afterward have all been written by Gio.
Gio Marcus is a Celebrity Copywriter to some of the biggest names in health and wellness. Her clients are: guests of Oprah, Marie Forleo & Sir Richard Branson; regularly featured on every major syndicated TV show and magazine; stars of their own Netflix documentaries; winners of Oscars nominations for their health documentaries. Between them, Gio's clients have written over 35 New York Times bestselling books, translated into 190 languages. She lives in Berkeley, California, with her wonderful pup, Cricket.
Messaging and Copywriting: It's not the same!
Messaging and copywriting are two different things. Messaging is just simply what you're putting out there to the world; it's an essence. It's the foundation of what is going to be translated into the copy. It's really important to get the messaging down, to spend that time and dwell into how you're going to stand out in a very crowded marketplace. Gio's advice for people who are just starting out in their business is to go "small and narrow" in their messaging so that they're speaking to a very specific person about a very specific thing.
So, you start out with messaging and then go into copywriting. 
Copywriting is persuasive writing. It's using the background work that was done in the messaging part of your business to create words that sell. Within copywriting, there are a lot of different kinds. Copywriting is this broad umbrella where we have: 
social media posts

Blogs

email newsletters

Websites

sales pages

lead magnets, etc. 
There are also different tools that are in the copywriter's toolkit, which is good news because it means that you can learn what those are and apply them yourself.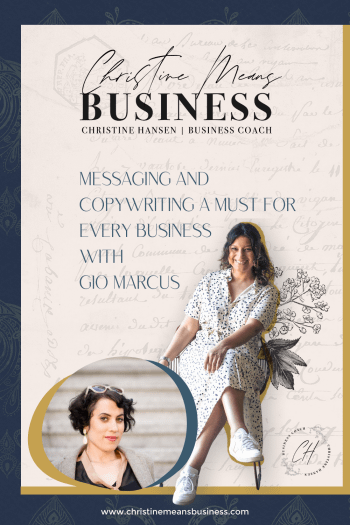 What makes a bad copy?
Bad copy is vague, it uses the passive voice, it doesn't incorporate stories and most importantly, it's all about the company. The cardinal rule of copywriting is always make it about the reader!
Copywriters are able to connect with a client and take their voice. So, when you read it, it's not someone else, it's literally you but on steroids of goodness. When I try to write my own text, it takes me 5 million years and then I give it to a copywriter and they come back with a version that is so much better than what I could ever do. The good news is that this is learnable. It does require some education about what copywriting is, but once you have that and you mix it with inspiration, you are good to go. 
3 Elements you need for people to interact with your website
The three elements to keep in mind if you want people to interact with your website, whether it's to book a call, or download their free gift, or click on the services section: 
Use direct response copywriting techniques

: copy that is designed to get people to take action. You inspire people that something is possible: Hey, do you want this thing? Take the next step. There are a couple ways that you can do that: (1) you can offer urgency, (2) you can create limitations, for example: I only have 3 spots left 

Have your messaging in place:

speak directly to your audience 

The transformation:

take out a piece of paper, draw a line down the middle and on one side write out the features and the other side write out the benefits. The minivan comes with AC, that's the feature.The benefit is that you stay cool on your trip. But

copywriting is not just about features and benefits, it's about the transformation.

Imagine that you are driving to a job interview, and because you've had air conditioning, you're not sweaty and you are comfortable, you're able to go into that job interview and ace it. That's the transformation. It's inviting your readers into a higher vision of themselves and showing them what's possible for them.
The About page
The "about page" is the most visited and longest visited page of any website. Your "about page" is not a place where you air out your dirty laundry and your whole life story. 
A good  "about page"  communicates your or your brand's values and for whom it's for. Any good "about page" is about the reader, not about the company. 
Gio is a huge fan of testimonials that have results that are identical to the results of your desired client or customer. It is so hard for people to write about themselves, to have that perspective, and to really articulate their vision and the transformation that they create for people, and it's really important to get support with writing that page. 
If you want to get in touch with Gio Marcus, you can visit her website and get on her VIP list. She also has a Facebook group that you can join and receive all her copywriting wisdom and you can DM her on Instagram if you have any questions about copywriting.
You can subscribe to the Christine Means Business podcast here and leave us a review as well! We would love to hear from you.