What is SEO and why is it important for your business?
To be completely honest with you, SEO is my best friend! The reason why I love it is because it's designed for lazy people (and I'm all for embracing your inner laziness and making a profit), and also for poor people – it's literally the most affordable long-term content marketing strategy that you can implement.
Now, what is SEO and why is it important for your business? The perfect person to answer these questions is my dear friend, Stephanie Fiteni. Stephanie is a content marketing strategist and blog coach for coaches. She is the creator of the Profitable Content Method and host of the Profitable Content Marketing Show Podcast. She helps new, as well as experienced coaches, grow their website blog traffic and turn more leads into paying clients by showing them how to grow that traffic and book discovery calls on automatic and grow their business with less effort. 
SEO aka search engine optimization are small changes that you create on your websites in terms of tech and also in terms of the text so that search engines can understand your content and rank it on the first page, mostly on Google mostly. According to Stephanie, the good thing about SEO is that it doesn't necessarily need to be technical like it was 10-20 years ago. SEO companies used to charge six figures to optimize your site, but now you can do it yourself. 
Optimize your content
People and Google want the same thing – to give their audience the value that was created for them, it wants to give them the right results. So by optimizing your content, you are not trying to fool the search engine, you are trying to format your content and your website in a way that helps Google easily understand who the content is meant for so that it can show it to the right people. So, if you're doing it right, if you really care about your audience and you offer them value, then it's really not that hard.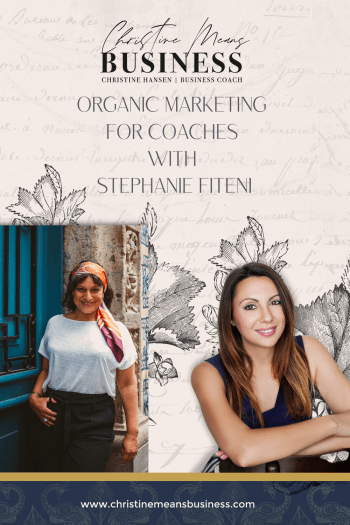 To have a friendly SEO website, you need to have SEO-friendly blog posts. So, how do you format an SEO-friendly blog post? 
Here are some of Stephanie's tips:
Use subtitles.

If your text isn't broken down by subtitles search engines will have a hard time understanding what it's really about. 

Keep it short.

You want your paragraphs to be between 150 and 200 words. Again, if your paragraphs are too long, it will be harder for search engines to determine what your post is about, but also it will push some of your readers away and Google pays a lot of attention to page experience as well. 

Pay attention to your style.

This is one of the few instances where you're going to need a coder. So, if you need to, hire a programmer and ask them to change your CSS, which is basically your theme and your styles.

Images.

If you use a stock image that has been used on other 1000 sites, Google is not going to like that. If you create your own or you pay for images, and you use more interesting, maybe metaphoric images, it makes a difference for SEO.

Keyword research.

The most important part when doing your keyword research is to connect to the human side of things, meaning understanding and knowing who your clients are and what they are looking for. 

Use categories.

When we talk about categories in terms of SEO, we were talking about the way you're organizing your content. The category that your article is in is going to make a difference to how Google is actually understanding the wider topic of the website. Your categories are actually keywords but they are keywords that are generic, industry keywords. 
So, whether you're running your online business for some time or you are just starting out, don't sleep on SEO. Using SEO helps you validate what people are really looking for, which simplifies the way you pick your offer. In turn, this helps you get your sales from simply putting blog posts out there with the right call to action.
Before you go, make sure to check out Stepanie's amazing freebie 10 Steps to Get More Leads from Your Website and Blog that will teach you how to easily tweak and improve your website so that you get more traffic and more leads. It's super simple and it comes with a "non-tech" tech list.
You can subscribe to the Christine Means Business podcast here and leave us a review as well! We would love to hear from you.