We all struggle with our self-esteem at one point and despite years of progress, many women today continue to suffer from low self-esteem. Now, what if I told you that there was a regime you can follow to help you build qualities necessary for higher self-esteem and overall wellness? 
Improve your self-esteem
This is exactly what Clarissa Burt's latest book The Self-Esteem Regime: An Action Plan for Becoming the Confident Person You Were Meant to Be, is all about. Clarissa's book empowers women of all ages and backgrounds to improve their self-esteem for a lifetime of awareness, poise, and confidence. Her regime — which features a wealth of tips, case studies, and affirmations — is neither complicated nor demanding, although it builds mental strength, toughness, and resilience –qualities necessary for higher self-esteem and overall wellness.
Clarissa Burt is an award-winning actress, international media personality, producer, director, writer, author, public speaker, and supermodel.  With hundreds of television and film credits to her name, this Who's Who of International and American Women brings over 30 years of entertainment industry experience in both International and American markets. Clarissa was recently awarded the Certificate of Global Honor by the University of Pune, India and the "Women of Excellence " Award by the Women's Economic Forum in Los Angeles. Special Mentions: Clarissa's extensive international social work garnered her two private audiences with Pope John Paul II. As a women's advocate and a leader of social change for a new standard of living, Clarissa was instrumental as Ambassador to the United States for the Walking Africa campaign that awarded African Women the Nobel Peace Prize in 2011. Clarissa is the first American to present at the Kremlin and be on the front page of a Russian newspaper.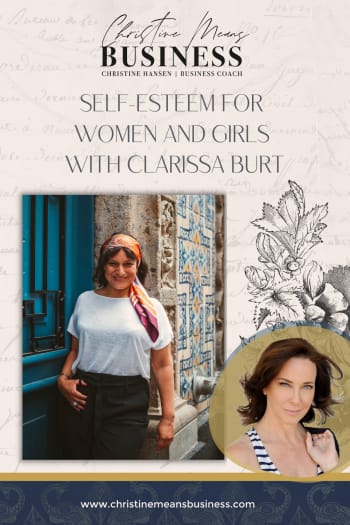 How to build your self-esteem
According to Clarissa, the most important things to help you build your self-esteem are:
Stop comparing yourself to others

. You are on your own journey, 

Set your boundaries

. You don't have to do it in an angry way, but do it in a little more forceful way if you need to. 

Use affirmations

. Each chapter of Clarissa's book comes with affirmations, but she recommends that you create your own and recite them every day. 

Networking

. Create our own community of supportive people, because the more you start to niche down on yourself and what is the truth for you, the more toxic people are going to fall away.

Let go of jealousy

. When it comes to your business, stay in a leadership mindset, knowing that there is plenty enough in the universe for all of us. When it comes to your relationships,if you are being triggered by jealousy, there is something that is awry. If you are in a relationship where you are not feeling safe because that person is unable to give you the kind of reassurance at times that you may need, then it's not the relationship for you
Clarissa also shares that her motivation for writing this book has been her experience in the modeling industry. During her career, she worked with some of the top supermodels in the world. From London to Paris to Milan or to Rome and New York, she was with them on all the major runways. These women were absolutely gorgeous, but many of them were speaking poorly about themselves. It dawned on Clarissa that no matter the age, the race, the faith, no matter where you were, you would find someone that was not happy with themselves.
This is why she decided to write her book and create her regime. There are no more excuses – read the book, do the work and get to the other side. 
If you want to find out more about Clarissa and her amazing book, visit her website or connect with her on Facebook and Instagram.
You can subscribe to the Christine Means Business podcast here and leave us a review as well! We would love to hear from you.