I personally believe that copywriting is one of the most important pieces to your business. If you get the copy right, people understand much quicker what you want to do. In case you don't know, copy is what we call pretty much every text that you use, online or offline, that is very crafted because it has a specific purpose, whatever that's just to get to know you, to get you to download something or to purchase something. I also suck at writing copy for myself. Now, don't get me wrong, I can do it for others, but when it comes to my own business, I always hire copywriters.
This was one of the reasons I was so excited to talk to Amisha Shrimanker, the Founder of The Copy Crew. Amisha is a launch copywriter and a growth revenue consultant. With her clients, she strategizes, plans and writes high converting launch copy for course creators, coaches and consultants.
Hiring a copywriter
According to Amisha, before you even consider hiring a copywriter, there are some things you need to have in place. 
First

, you need to have an audience. Whether it's an email list or a strong social media following, you need to make sure that you have an audience that you're nurturing and not just showing up when you want to sell them something. 
Second, you need to have is a proven offer, meaning an offer you have sold before or you have a new offer, but you have a strong brand presence at the same time. Amisha is a firm believer in the principle of direct response marketing which states that 40% of your success depends on your audience, another 40% on your offer, and the last 20% on your copy. The copy is just amplifying your efforts, amplifying what you do and making you the big bucks.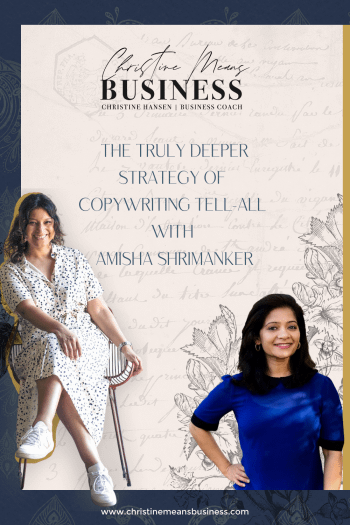 Amisha explains that copywriting is a co-creative process. Hiring a copywriter does not mean that you are going to jet set off to Bora Bora and take a vacation because someone else is going to be writing for you. Copy is just not the words. It's really going deep into a funnel and seeing what works and what doesn't. When you have a good copywriter, they will ask you the right questions, they will listen and pick up on the things that maybe you take for granted that are actually the things that make you shine. The job of a good copywriter is to shine the light on your true genius you don't even see and then to use a little bit of psychology to make the copy very juicy.
When working with her clients, Amisha is not just a copywriter. Her role could be described best as a consultant. Even though copywriting is a creative process, she makes sure to also dig into the numbers. Because, again, she believes that the most important things for success are your audience aka the traffic that's coming to your site, and your offer. Your copy is really something that comes much later.
If you are interested in finding out more about Amisha and her services in one-on-one copy work and consulting, visit her website. She is also running a group coaching program for other copywriters and digital marketers and you can check that out here https://thecopycrew.com/the-audit-superstar/.
You can subscribe to the Christine Means Business podcast here and leave us a review as well! We would love to hear from you.