Kelsey Chapman is an author, community builder, online educator, and host of The Radiant Podcast. She wholeheartedly believes dreams are worth pursuing and is passionate about teaching women how to walk with purpose in their gifts and live from a place of identity and rest — all so that they can carry their dreams and vision for the long haul.
Empowering Others
After a few years of fumbling her way through post-grad life and a brief stint overseas, Kelsey realized that her entrepreneurial itch wasn't going away. She came home, got to work, and turned a part-time blog and side-hustle into a multi-six-figure business in just two years. From there, she realized her business savvy traits and desire to empower others could be translated into something bigger through teaching everything she's learned with others. In just four years, she has mentored hundreds of clients and thousands of students through building their brand, growing their platform, and stewarding their influence.
Today, Kelsey plays the role of personal cheerleader to an engaged audience of 100,000 followers, hosts The Radiant Podcast, and empowers and equips women through her Radiant Podcast, Dream To Done online mentorship program, and most recently, her book What They Taught Me: Recognizing The Mentors Who Will Take You From Dream To Done.
Group Programs – Helping entrepreneurs
Kelsey got on my radar with her amazing program called Your Course Toolkit. What is so amazing about this program is that different creators add their course, module, or resource that they have, into the bundle (usually more than 20 creators) and the whole thing sells for $99. In the end, what is happening is that not only Kelsey is promoting the course, but every creator who is part of this promotes it as well, and everyone gets a cut. It's similar to a summit, but I just find that it has so much more value in a way that it works really, really well and even if you're not someone who has contributed, you can still promote it and get an affiliate cut.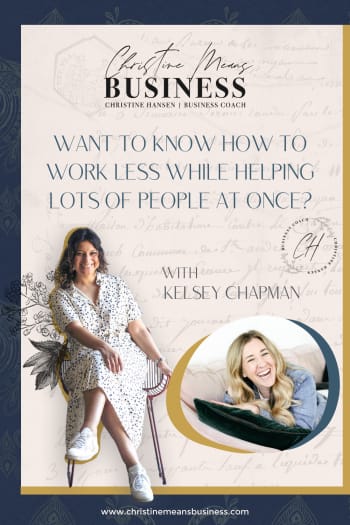 This amazing program is a result of Kelsey's desire to help the underdog have access to resources, they might not otherwise have. She knows that investing in programs can feel very scary, especially when you are just starting out, and she wanted people to be able to get 25 courses for $99. It's a win for the customer, but it's also a win for the creators because often course creators are looking for new ways to build exposure, to build their list of buyers. So, even if they discount their courses to put in this toolkit, and they only make their cut off of affiliate commissions, they still end up with a list of 100-150 buyers who might buy something else down the road. 
On top of this great course, Kelsey created her mentorship program Dream to Done. Mentoring others is something that is so aligned with Kasey and lights her up. She started her mentorship as a mastermind course and after the first year, she ended up turning it just into a flat-out course with a Facebook group where people could interact. Since then, she launched the Dreaming Clubhouse, which is more of a monthly business Q&A and a quarterly book club, because she wanted something really simple, where people could check in, ask their questions and move on with their day.
Kelsey's Advice
When it comes to creating a successful group program, Kelsey's advice is to first serve people, see their pain points, understand what they're going through, and then develop the program. She is very much pro doing one-on-one or building out your service-based business first and then stepping into group coaching. You learn so much in those individual conversations with clients that you might not have the time and space to pick up on a group coaching program.
Visit Kelsey's Instagram and website to connect with her and get more info. If you love getting mail the old fashion way, you can get a free copy of her Radiant Manifesto by clicking here. 
For more business tips, visit our blog.